The Lucinda Ellery Hair Loss Consultancy
21st century hair loss management and hair replacement options exclusively for women
before and after Intralace™

before and after Intralace™

before and after Medi Connections™
Lucinda Ellery of London, England open new location in Los Angeles, CA
Since 1984 Lucinda Ellery has been the #1 choice for women seeking glamorous, life-transforming, superbly secure hair restoration in the United Kingdom. Now we can provide that same service in the USA.
Helping Women with Hair Loss Look Great
Our studios provide individualized hair restoration services for women with hair loss who are interested in looking naturally fabulous.
Watch the Lucinda Ellery Amazing Hair Loss Intralace Makeover on 10 Years Younger
Whatever the cause
Follow your hair loss condition link below to find out how we can give you beautiful hair again!
A New Approach to Hair Loss Treatment
You may have already found that chronic hair loss is something that physicians cannot yet cure – and that the medical profession often does not take seriously.
This is why Lucinda Ellery – who herself woke up at the age of 10 with all her hair left behind on the pillow overnight after the death of her father – created her unique U.S. Patent Pending hair replacement system to improve the density and appearance of any woman's hair.
Lucinda Ellery Options to suit you
Our options are specifically designed to provide you with choices. They include:
Scalp make-up
Styling support to cover thin patches
Many women who visit Lucinda Ellery also find psychological comfort from connecting with others with similar challenges – sometimes for the first time in their lives. We Can Help - Call us today!
The Intralace System on Channel 5's
The Wright Stuff Extra
Watch Hannah Westwood being interviewed by Gabby Logan about using the Intralace System to combat hair loss following radiotherapy treatment.

The Intralace System on Channel 4's
Daybreak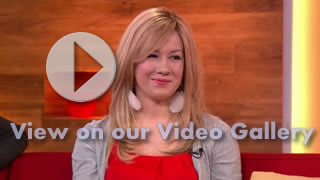 Watch India Barnes being interviewed about overcoming Trichotillomania
Using the Intralace System to combat hair pulling.

Lucinda Ellery - Los Angeles hair restoration centre is the first of our specialist Women's hair loss locations opening in the U.S.