The Lucinda Ellery Hair Loss Consultancy
21st century hair loss management and hair replacement options exclusively for women
before and after Intralace™
before and after Intralace™
before and after Medi Connections™
See more examples of women using the Intralace System™ and Medi Connections™
Lucinda Ellery of London, England has locations in New York and Los Angeles with more locations opening across the U.S!
Since 1984 Lucinda Ellery has been the #1 choice for women seeking glamorous, life-transforming, exceptionally secure hair restoration in the United Kingdom. Now we can provide that same service in the USA including the Patented Intralace System™, U.S Patent No. 8,578,946.
Helping Women with Hair Loss Look Great
Our locations provide individualized hair restoration services specifically for women
Watch the Lucinda Ellery Amazing Hair Loss Intralace Makeover on 10 Years Younger
Whatever the cause
Follow your hair loss condition link below to find out how we can give you beautiful hair again!
A New Approach to Hair Loss Treatment
You may have already found that chronic hair loss is something that physicians cannot yet cure – and that the medical profession often does not take seriously.
After the death of her father, Lucinda Ellery woke up one morning to discover her hair had fallen out. This inspired her to create the unique Intralace hair replacement system (US patent granted) which improves the density and appearance of women's hair.
Lucinda Ellery Options to suit you
Our options are specifically designed to provide you with choices. They include:
Scalp make-up
Styling support to cover thin patches
Lucinda Ellery appearing on NBC's Today Show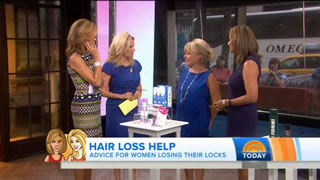 Watch Lucinda on the Today Show demonstrating some simple techniques for adding volume to fine hair
Lucinda Ellery studio on the CBS Show The Doctors
Watch the episode in which a woman suffering from thinning hair is given a paid-for treatment with Lucinda Ellery