Women's Hair Loss Replacement
The Intralace Freewear System™
The Hair Replacement System at Lucinda Ellery is a variation of our successful Intralace System™ called the Intralace Freewear System™, and is suitable for clients with total hair loss (Alopecia Totalis) and for those that are looking for an alternative to using a human hair wig.
We have, in the past, worked with traditional hair replacement systems; but relying on a third party for repairs and maintenance can be stressful and time consuming so we developed our successful Intralace Freewear System™.
There are many benefits to using the Intralace Freewear System™ as opposed to using a standard hair replacement system or a human hair wig. Clients will only require one system rather than ordering several backup systems, which is usually the case when you choose the traditional hair replacement method.
As the Intralace System® is exclusive to Lucinda Ellery, clients can enjoy the benefit of a service which is always available at our own studios, rather than being dependent on external third-party manufacturers with the inevitable delays while materials are transported back and forth to them. Intralace Freewear clients normally only need an appointment once every 4 to 6 months but they are welcome to use our hair dressing services as often as they want.
The Intralace Freewear System™ is secured in place by using both a medical grade tape and a skin friendly liquid adhesive. Clients have the option of having a natural hair line parting and natural side hair line panels, which allow the client to be carefree with styling options - there is no need for bangs and you can confidently tuck the hair behind your ears. The system allows you to sleep, wash and dry your hair like it was your own.
Replacing the adhesive and tape is a simple procedure. Clients replace them themselves at home, as and when needed. We provide full support and training. Once you are used to the technique required to reapply your Freewear, it is really simple.
This system normally lasts for two to four years, before needing to be completely replaced.
The Intralace Freewear™ human hair wig alternative allows women real freedom and the ability to have a totally natural hair line, giving the Intralace™ incredible realism.
View more examples on the Hair Replacement Gallery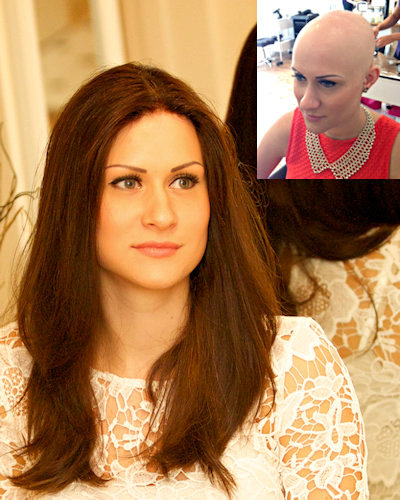 Imogen
Our locations
Los Angeles
New York
London, England, UK.
Also in Manchester, England, UK. Edinburgh, Scotland, UK. Bristol, England, UK, The Midlands, England, UK, Southampton, England, UK.