Beyond Wigs and Toups
Ingrid Schmidt reports for the Los Angeles Times on hair loss and hair restoration techniques for both men and women.
Read the story below or download a pdf of the article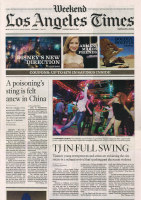 Beyond Wigs and Toups
It almost goes without saying that hair is huge business in Hollywood. Healthy, beautifully coiffed and colored locks are a key calling card for those in the spotlight. Exhibit A: Jennifer Aniston's headline-generating honey-blond shag, hyped year after year by fashion magazines as the "best hair in Hollywood."
While jaws flap about First Lady Michelle Obama's bangs or Miley Cyrus' extreme crop, it is something else entirely when the subject moves to supermodel Naomi Campbell's dramatically receding hairline, Black Eyed Peas singer Fergie's ever-growing part or Prince William's bald spot. Talk about those who are losing their crowning glory is often left under the rug, so to speak.
Yet nearly 50 million men and 30 million women in the United States suffer from hereditary hair loss, known as androgenetic alopecia, according to the American Academy of Dermatology. Countless others lose hair due to chemotherapy, psychological issues, surgery, medication or excessive styling.
Given that the topic is so hush-hush, it can be difficult to track down a quality solution for hair loss. Hats and scarves work in only so many situations. Often unnatural-looking and uncomfortable, wigs and toupees have a bad reputation. Hair replacement surgery seems drastic and can undo itself as balding progresses.
Yet respecable hair-pieces do exist, and they are big business, as witness this somewhat surprising statistic reportd by the Atlantic: More than $1.3 billion worth of raw human hair was imported into the United States in 2011 compared with $1.8 billion worth of bananas.
Edward Katz of Edward Katz Hair Design in Universal City has hand-designed custom hairpieces and facial hair for actors in more than 600 Hollywood films and also does work for the Royal Academy of Arts in London. Catering only to men, he counts William Shatner and Burt Reynolds among his high-profile clients.
A natural-looking hair-piece that turns back the clock can "be the difference between an actor making it and not making it," says Katz. For noncelebrities, "it's a better investment than a car in terms of making a difference in a man's social life."
Made of high-quality synthetic hair, Katz's hair-pieces are produced at a factory in Universal City, which is more expensive than making them overseas but allows for quality control. Katz maintains that synthetic hair works best to create short, layered styles and match the diameter of a client's hair, while allowing for a broad palette of colors that replicate natural variations.
"A cameraman can be one inch away, and he can't see the difference between our hairpiece and existing hair," says Katz. "We do use about 30 to 40 human hairs to create a soft, front hairline. But human hair tangles, and it will oxidize and change color after exposure to the sun or pollution."
Although Edward Katz Hair Design is just for men, other local businesses, such as Farrell Hair Replacement in Hollywood - endorsed by actor Jason Alexander - and Thursday's salon and spa in Calabasas, offer human hairpieces for both men and women.
Jill Sugar, owner of the 11-year-old Thursday's, notes a marked increase in female clients over the years. "We used to have more men, but now it's almost equal," says Sugar. "Women used to suffer silently; they would wear [full] wigs or not go swimming."
The number of women affected by hair loss is surprisingly high. One in four women experiences some type of hair loss by age 35 and more than 50% do so by age 50, according to the American Hair Loss Assn.
Gayle Brinkenhoff, who has battled canceer for nearly 25 years and whose husband Michael, developed the Ventura-based Revita-Lash line of hair-enhancing products, has been wearing Thursday's hairpieces for eight years.
"I was sitting in a movie theatre, and my wig popped off; it was really embarassing," says Brinkenhoff, who has undergone 19 sessions of chemotherapy. "Finally, I found Thursday's. People are always complimenting me on how beautiful my hair looks."
British specialist Lucinda Ellery, who focuses solely on female hair loss and thinning, opened her first U.S. location last year in Beverly Hills. With a flagship in London and satellite branches in Manchester, England, and Edinburgh, Scotland, Ellery has treated women from around the globe since 1984.
"We [all] lose 100 hairs a day or 3,000 a month," says Ellery. "This is the cycle of hair: Rest, shed and grow. But sometimes that cycle is interrupted. There's such a thing as a bad hair day; but a bad hair life becomes very traumatic. Most of the women I see have exhausted [options offered by] doctors and dermatologists and psychologists."
Ellery's patented "intralace system" customizes pieces of a featherweight mesh to a client's head, fitting it all over a bald head or to specific patches of hair loss. Every single remaining hair is threaded through the mesh, strand by strand, and plaited to hold the mesh in place; then additional human hair is added to the mesh, where needed. Any hair that grows back (as happens when a cancer patient stops receiving chemotherapy, for instance) is woven through the mesh and integrated at follow-up visits every six to eight weeks. A smaller "Minima" design is used to conceal an overly wide part.
Ellery also offers six sizes of hair extensions, specially designed to maximise hair health with the correct ratio of hair-to-extension during application and a special bonding agent that deters breakage.
"What I really love about Lucinda is that she treasures every hair follicle on your head and will do nothing to damage your hair or put it at risk." says Dr. Sarah Brewer, a longtime client who has worked with Ellery in England for more than 20 years.
Hair Restoration of California also offers a system that integrates existing hair by pulling it through sheer material that blends into the scalp. However some companies opt to shave any remaining hair and attach the hairpiece to a bald scalp with medical-grade adhesives.
Regardless of how they are attached, all these modern-day hairpieces are touted as capable of staying in place 24 hours a day, in wind or rain, while sleeping, showering, excercising or "swinging from the chandelier", as Ellery adds.
They also look like real hair, with natural hairlines and growth patterns, and feel like natural hair, particularly when a client's hair is integrated. They can be washed, brushed and styled without budging.
"I am able to claim this hair as my own," says Erin May, a 26-year-old client of Ellery's L.A. salon. "This will never fall off, and I am not brought to my knees by the reality of having to take off a wig every night."
Salon maintenance visits are required every four to eight weeks depending on wear. Eventually, also depending on wear, hairpieces will need to be replaced, though salon owners estimated a life span of anywhere from two months to four years for most of them.
Both Lucinda Ellery Hair Consultancy and Thursday's emphasize privacy.
"I don't [treat] men, and I don't even want them here," says Ellery. "These women don't want anyone to know they have their hair done and I want them to feel comfortable."
Thursday's offer 18 fully equipped private treatment rooms, and even the salon's name caters to anonimity. "We chose a name that wouldn't draw attention if your girlfriend or a business associate saw the receipt," Sugar says.
Although hair replacement is the core business, Thursday's also offers facials, massages, body treatments, waxing and more, so clients can have everything done in a safe environment, with no worries about their hair loss secrets being revealed.
"I've had people tell me , 'I am losing my hair, and it's ruining my life. That's why I'm fat.' Or 'That's why I'm single,'" says Sugar. "It breaks ny heart because the person just didn't know that [hair restoration] existed."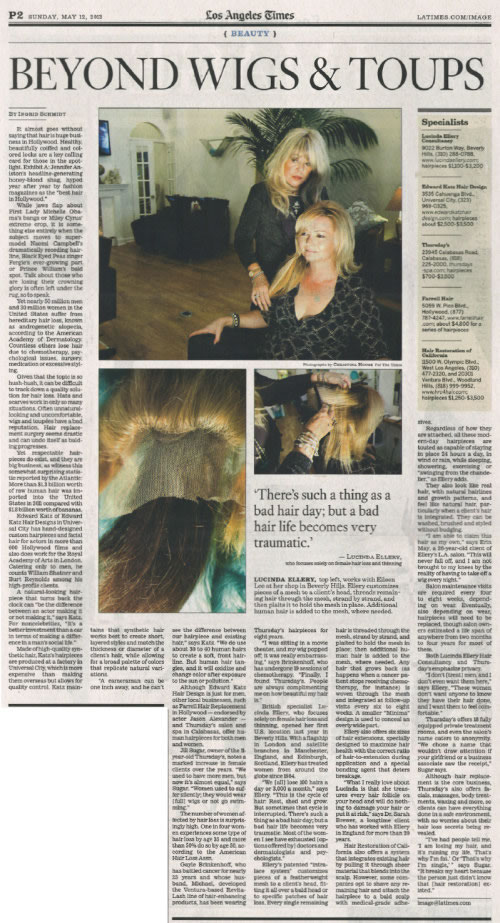 Back to the Press Articles page