Francesca's AA Story
'When I was 16 I had long golden blonde straight hair. I have always had fabulous hair. A great mix between my mother's thick, dry, brown coarse hair which she will spend hours trying to tame and my father's, thinner blonde, poker straight hair.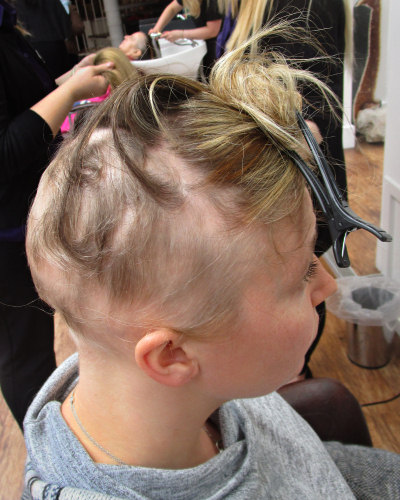 I was always quite proud of my hair, I even came runner up in our schools "hair of the year award"!! Coming up to my GCSE's was a bit of a stressful time and this is when my alopecia started. I was 16 years old. If I ran my fingers through my hair then huge clumps would come out.
I felt really powerless for the first time in my life, before my alopecia I had never been ill, never lost anyone really close to me, or not been in a position to prevent things from happening. This was new to me and scary. It was pretty bleak and I didn't know what to do about it. Obviously I told my mum and dad but as there was so little research into it I just figured it would come back when ready.
I tried to redeem the situation by ignoring how thin my hair was getting, or wearing headbands to cover the actual bald patches – neither were great solutions.
My Mum then took me to a Doctor who recommended that I try steroids so I did this for a period of 6 weeks. My Dad then took me wig shopping and I was intent that I wanted hair that I could blow dry, wash and straighten – which means that real hair wigs were the only option, but when it came to looking after my wigs and brushing them, washing and prepping etc. I was not very adept at this so I looked like I had a frizzy mop on my head!
I was feeling really low, and to make matters worse when I went back to my Doctor after 6 weeks of using the Steroid treatment, he told me that nothing had been achieved and it was more than likely I would never get any of my hair back. EVER.
I remember that night so clearly; I came back to the my boarding school and told my friends through my inconsolable tears. My hair loss continued over the next few years and I also started to lose hair from my eyebrows and eyelashes. I continued to buy different types of wigs and found some that I really liked but they could come off and I had some embarrassing situations!!!
I found a really helpful Dermatologist in London who recommended I try an alternative Steroid treatment and I believe this is what made a difference for me.
My sister Nicola had read something in the Times about a place called Lucinda Ellery. I went to have a consultation with Lucinda Ellery and she is a very colourful lady, very friendly and told me that I would be able to have the Intralace System. They integrated a skin coloured material mesh with my remaining hair and then real hair is attached directly on to the mesh. I finally had a real head of hair that I could play with and style however I wanted, but I did not have to remove whilst showering or swimming etc.
The Intralace system did not prevent my own hair from growing back and a few months later my hair had grown so much that I eventually had my system removed and had a full head of light blonde pixie hair!! I was happy with my pixie style and happy with the steroid treatment.'
Francesca then developed Alopecia again at the beginning of 2015 and returned to Lucinda Ellery and now continues to manage her hair loss with the help of the Intralace System.
See more photographs of Francesca and other women using the Intralace System in the Intralace Gallery